Good day fellow readers.
Summer is here upon us, school is closing its doors as the pools and beaches open theirs. What fun plans have you decided to partake in during these warm months? A trip to the beach? Will you be visiting relatives that live in another state, country, or somewhere interesting? Where will you be vacationing?
Did you know books can help make these places more enjoyable? Find kid's travel or non-fiction books about the places you'll be going. You may even find fiction books that are set in the place you'll visit. Collect a few to read during the trip or before. Travel guides offer details about places to visit and help children know what to expect when going somewhere new.
What about the beach, or camping? There are so many books out there both fiction and non-fiction which can be read ahead of time. Younger children will enjoy learning what to look for when they get to their destination.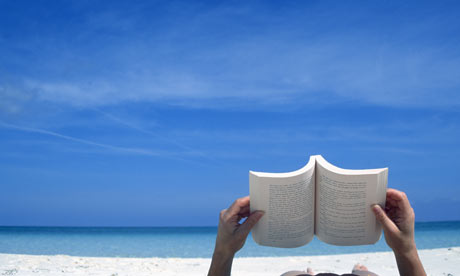 Create a summer reading and adventure scrapbook. Work with your children to fill in during the summer. List titles you all read on one page, and write what you liked about the book. Then when you visit the places described in the book, let children collect a few souvenirs to put in the book: shells and sand from the beach, or leaves from a camping trip. Oh, and be sure to include plenty of pictures of your adventures. Spend some time decorating your scrapbook pages with colorful paper and stickers.
Associating books with real-life experiences helps to reinforce the importance and enjoyment of reading.
Happy Reading,
The Queen