Good Friday dear friends,
The Queen here with a chapter book for younger readers. Lois Lowry's Bless This Mouse was a delightful read about a community of church mice. The characters are endearing. The story line is not full of fast adventures, but makes for a nice read with lots of take-away value.
Since this is a chapter book, I have not included activities this time. I encourage you, young reader, to simply enjoy this delightful story.
Happy Reading,
The Queen
Book Title: Bless This Mouse
Reading level: Ages 9 and up
Book Info:Hardcover: 160 pages
Genre: Fantasy chapter book
ISBN: 978-0547390093
Book Theme:
leadership, hard choices, friendship and working together.

Opening Line:
"Hildegarde sighed, a loud, squeaking, outraged sort of sigh, when she was informed that a new litter of mouselets had been born in the sexton's closet.



Book Summary
A church mouse is no ordinary mouse, and Hildegarde—the Mouse Mistress of Saint Bartholemew's—is no ordinary mouse leader. It falls to her to keep all the church mice safe and out of sight.
But when a few parishioners report mouse sightings, Hildegarde and the rest of the church mice must face a most dreadful consequence: the Great X. To complicate things, a ceremony called the Blessing of the Animals is fast approaching. Saint Bartholemew's will soon be filled with pets . . . including cats!
Oh, dear. Within the stately stone walls of the church, life is not as serene or safe as one might think. It will take the courage and patience of a—well, of a saint—to keep this scampering, squeaking tribe of Hildegarde's intact.
Lois Lowry is known for her versatility and invention as a writer. She was born in Hawaii and grew up in New York, Pennsylvania, and Japan. After several years at Brown University, she turned to her family and to writing. She is the author of more than thirty books for young adults, including the popular Anastasia Krupnik series. She has received countless honors, among them the Boston Globe-Horn Book Award, the Dorothy Canfield Fisher Award, the California Young Reader.s Medal, and the Mark Twain Award. She received Newbery Medals for two of her novels, NUMBER THE STARS and THE GIVER. Her first novel, A SUMMER TO DIE, was awarded the International Reading Association.s Children.s Book Award. Ms. Lowry now divides her time between Cambridge and an 1840s farmhouse in Maine. To learn more about Lois Lowry, see her website at www.loislowry.com
Illustrator:
Eric Rohmann
Eric Rohmann was born in Riverside, Illinois in 1957. He grew up in Downers Grove, a suburb of Chicago. As a boy, Eric played Little League baseball, read comic books, collected rocks and minerals, insects, leaves, and animal skulls.
Eric has his BS in Art and an MS in Studio Art from Illinois State University, and an MFA in Printmaking/Fine Bookmaking from Arizona State University. He also studied Anthropology and Biology. Eric taught printmaking, painting, and fine bookmaking at Belvoir Terrace in Massachusettes and introductory drawing, fine bookmaking, and printmaking at St. Olaf College in Minnesota.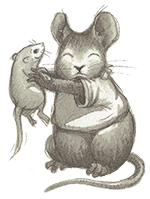 Eric has created book jackets for a number of novels, including His Dark Materials, by Philip Pullman. He won a Caldecott Honor Book award for Time Flies, and a Caldecott Medal award for My Friend Rabbit. Eric has written four children's books: My Friend Rabbit, The Cinder-Eyed Cats, Pumpkinhead, and A Kitten's Tale. He recently illustrated Lois Lowry's Bless This Mouse and an old Scottish poem, Last Song. Look for Bone Dog out in the latter part of 2011.
Eric currently resides in a suburb of Chicago.