Good day dear Readers,
The Queen here with a re-post of one of my favorite books.
I was browsing through the books featured over the last couple of years and there's so many wonderful titles. So you may see a few repeats over the next few weeks. Especially my most favorites, which
Grandpa Green
by Lane Smith is one of them.
Oh, and I added a couple of new ideas to the Activity Arena. Check it out.
Happy Reading!
The Queen
Did you know, children who read well become more successful?
Years of research has proven that children who read at grade level are more successful in school and in life than students who read behind grade level. Reading is a key skill for performing well in school and enjoying more career choices. Source:
Read and Rise, National Urban League
.
With that said, I have another fabulous book for young children, a read-a-loud with beautiful illustrations that should be studied, discussed and enjoyed over and over.
Today's Library choice is Grandpa Green by Lane Smith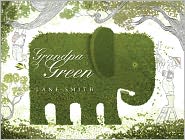 Product Details
Reading level: Ages 5 and up
Hardcover: 32 pages
Publisher: Roaring Brook Press (August 30, 2011)
Language: English
ISBN-10: 1596436077
Amazon.com Review
Product Description
From the creator of the national bestseller It's a Book comes a timeless story of family history, legacy, and love.
Grandpa Green
wasn't always a gardener. He was a farmboy and a kid with chickenpox and a soldier and, most of all, an artist. In this captivating new picture book, readers follow Grandpa Green's great-grandson into a garden he created, a fantastic world where memories are handed down in the fanciful shapes of topiary trees and imagination recreates things forgotten.
In his most enigmatic and beautiful work to date, Lane Smith explores aging, memory, and the bonds of family history and love; by turns touching and whimsical, it's a stunning picture book that parents and grandparents will be sharing with children for years to come.
Activity Adventures:
Remembering A Special Life:
Chronicle someone's life. It can be a family member such as a grandparent, a friend or even someone you admire.
Where did they start? Find one or two interesting facts about when they were a child. Did something happen in Middle or High school that was significant? When were they married? Or what did the do after graduation? Use the book to ask questions about this special person.
Grandpa Green loved gardening, so the writer used garden scenes to illustrate his life. What special trait or hobby can you use to illustrate your special person's story? Do they love knitting? Perhaps yarn can be used. Or a mechanic? Perhaps scraps of nuts and bolts can be used to put together a scene from their life story. Use your imagination and see what you can come up with. Simple drawings or colleges will work too.
Something New!
It's Spring and a perfect time to go out and try your hand at pruning bushes in your own yard. Do you have any ornamental bushes in your yard? Parents and children can work together trying to shape a bush into a figure. Don't fret if it doesn't work out! The bush will grow back, right? Give it a try, have some fun. You might also consider purchasing a small bush from the plant store and playing with it. When finished, put it in the ground.
Collect flowers and leaves and create natures pictures on a piece of paper. Use your imagination and see what you can come up with.
Author's Arena
Lane Smith
has written and illustrated a bunch of stuff, including
It's a Book
;
John, Paul, George & Ben
and
Madam President
. His titles with Jon Scieszka have included the Caldecott Honor-winner
The Stinky Cheese Man
;
The True Story
of the 3 Little Pigs
;
Math Curse
; and
Science Verse
. Lane's other high profile titles include
Hooray for Diffendoofer Day
! by Dr. Seuss and Jack Prelutsky;
The Very Persistent Gappers of Frip
by George Saunders;
Big Plans
by Bob Shea; and
James and the Giant Peach
by Roald Dahl. In 1996 Lane served as Conceptual Designer on the Disney film version of
James and the Giant Peach
. Lane also wrote and illustrated the retro, cult favorites,
The Happy Hocky Family
and
The Happy Hocky Family Moves to the Country
. Like the Hocky family, he and book designer Molly Leach live in a little town in the country.