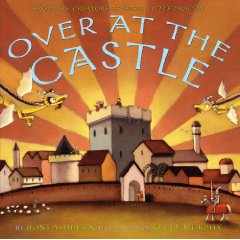 Publisher:
Abrams Books for Young Readers (March 1, 2010)
Illustrator: Kelly Murphy
In this clever reworking of the classic folk song "Over in the Meadow," readers meet villagers who spent their day spinning, cleaning, cooking, dancing, and more. The text counts up from one baby dragon to ten court jesters, and kids will enjoy counting along with each of the characters as they go about their daily work. At the end of the day, all the villagers look out their windows for a special surprise from their dragon neighbors. Readers will pore over illustrations filled with the same unexpected, warm humor of Boni Ashburn and Kelly Murphy's first book, Hush, Little Dragon.
Queen's Take on the Book:
The lyrical text and charming pictures intrigued me. I enjoyed spotting the dragons throughout the book as they waited in eager anticipation for whatever shenanigans they had planned for that night. (Can you spot the dragon in the picture above?) I believe young children will enjoy singing along with this book. You will want to get the tune in your mind, so they can join in on the repeating refrains. Do make sure you stop every few pages and ask what the child thinks will happen next, or what do they think the baby dragon is eager to do? Allow suspense to build up as each page progresses throughout the day.
Throughout the book, the reader is able to spot glimpses of the dragons peeking into windows, or lazing on the hill. What are the dragons doing and why?
Discuss the people in the castle. What kinds of jobs do castle workers have? Are they like the jobs people in real life have?
Why is the baby dragon so eager? What do you think they have planned? Will the castle people like it or not?
What seems to be the people's reaction on the last page? Was the wait worth it? Why or why not?
Come back Wednesday for Adventure Activities down at the Castle Library. My own dragon friends love this book and have some fiery-hot adventurous fun. On Friday, we will meet the author, Boni Ashburn and illustrator, Kelly Murphy in the Author's Arena.